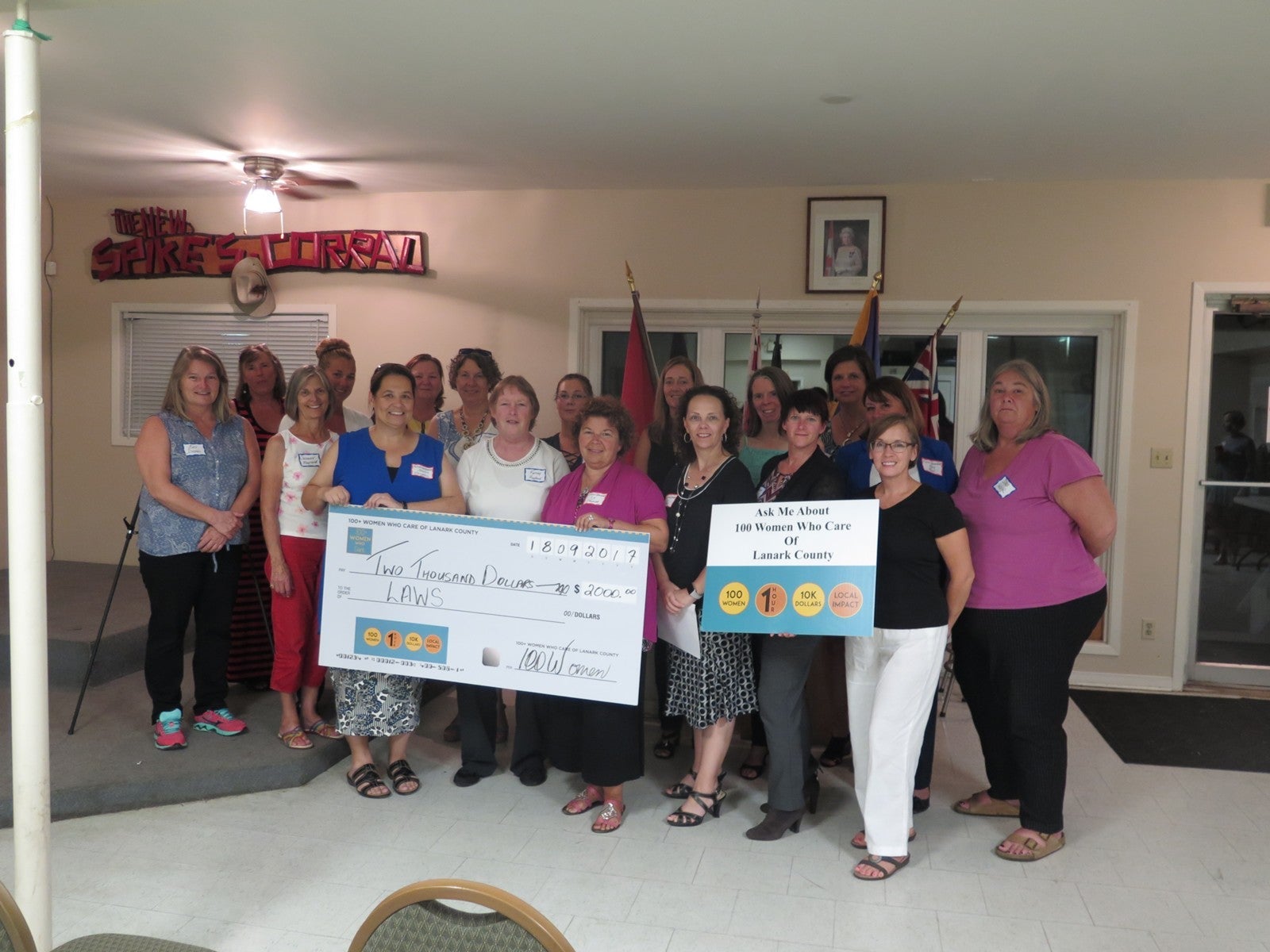 The Lanark County chapter of 100 Women Who Care held its first official meeting on Sept. 18 at the Army Navy Airforce Club in Carleton Place. LAWS received a total of $2,000 from the 20 members in attendance. Another $300 was handed over a week later from the members who were not able to attend. - Tara Gesner/Metroland
The Lanark County chapter of 100 Women Who Care held its first official meeting on Sept. 18 at the Army Navy Airforce Club in Carleton Place. This chapter is just one of approximately 500 around the country.
Lynn Vardy, who established 100 Women Who Care Lanark County alongside Jeannie Mongrain, explained to the Canadian Gazette, "The group will meet four times a year, and every time 100 women will donate $100 each to a local charity or non-profit."
The two ladies were immediately drawn to the idea after hearing about 100 Women Who Care during Christmas 2016.
"A little bit of wine later ... here we are," Vardy said with a laugh.
Vardy is a sales representative with Royal LePage Team Realty and Mongrain is a mortgage broker with Dominion Lending Centres. Both women have a history of being community minded.
Currently, 100 Women Who Care Lanark County boasts just over 30 members; however, upon reaching its goal of 100 associates, donations will total $10,000 per meeting, which has a huge local impact.
How does it work? Three randomly drawn charities or non-profits are asked to present for five minutes each at every meeting. Members are then asked to vote on the organization they want to support. The charity or non-profit with the most votes receives the money at the end of the gathering, with tax receipts issued to members by the organization receiving the funds.
"Members who cannot make a meeting are still required to honour their donation commitment," Vardy said.
Every 100 Women Who Care Lanark County member can nominate the charity or non-profit of her choice at the beginning of each meeting, in the hopes it will be selected for the following get-together. In order to be considered, the charity or non-profit must be located in Lanark County. Too, it must be eligible to provide tax receipts for donations.
"Startups will not be considered," Mongrain said, and "the charity or non-profit must be at least a year old."
Any organization selected for the group donation may not be considered again within a three-year period.
During the first 100 Women Who Care Lanark County meeting, the ladies selected from Lanark County Interval House (LCIH), Lanark Animal Welfare Society (LAWS) and Lanark County Therapeutic Riding Program (LCTRP). In the end, LAWS received a total of $2,000 from the 20 members in attendance. Another $300 was handed over a week later from the members who were not able to attend on Nov. 18.
Vardy stressed donations do not go to administration costs.
"Our group is organized and operated by volunteers," she said. "All money raised at meetings goes to the selected charity or non-profit."
For the first while meetings will take place in Carleton Place.
Packages handed out at each gathering contain the following items: voting ballot, charity or non-profit nomination ballot for next meeting, list of frequently asked questions, meeting agenda, upcoming meeting dates, list of eligible charities and non-profits in Lanark County already vetted by organizers and more.
LAWS president Kathy Hoyland was up first on Nov. 18, educating members about the Smiths Falls shelter for abused, abandoned and lost animals. Incorporated in 1986 and a registered charity, LAWS is one of two no-kill shelters in Ontario. The shelter has been in the same building on Glenview Road for 31 years.
"We do not euthanize animals if they have been at the shelter for a very long time – or if they are old," Hoyland explained. "Euthanasia is only considered when an animal is ill or aggressive ... if their quality of life is impacted."
Animals entering the shelter are cared for and receive veterinary care, and they get a lot of love and attention from staff and volunteers.
"LAWS gets no government funding," Hoyland stressed. "We rely on private donations and fundraising."
The shelter co-ordinator at LAWS, the only full-time, salaried employee, is Wendy Vincent.
"The others are part-time or volunteers," Hoyland said. "We have between seven and nine people ... running a shelter is a lot of work."
Last year, the board decided a new shelter was needed.
"We tried to sell the current place, but there were no takers," the president noted. "Therefore, we made the decision to do a really big, massive renovation."
"We are hoping to tear down the cat area and rebuild so it is energy efficient and environmentally friendly, and the water does not freeze in the cat rooms or the pipes do not burst in the middle of winter," Hoyland stated. "Our heating bills are astronomical!"
Adopting a pet is a major decision and LAWS is there to help people make the best match. All animals adopted through LAWS are spayed or neutered, have a microchip implant, receive vaccinations and deworming and flea treatment.
LCIH public education co-ordinator Brianne Luckasavitch noted her agency supports women and children impacted by violence.
"We believe women and their children have a right to live with dignity, without the threat of abuse," she said. "When that right is denied or interfered with we provide protection and support."
Getting personal, Luckasavitch painted the following scenario: "This morning I woke up, got out of bed, poured myself a coffee, took a shower, woke up my daughter ... not once during this time was I afraid of getting hurt, hit or swore at, nor was I afraid for my daughter's safety ... "
In 2016, 2,018 women called LCIH's crisis line afraid, and the 456 women and children who accessed the agency's outreach services were afraid.
"The 93 kids who were visited at school by our child outreach councillor were scared," Luckasavitch said. "The 127 women and children who lived at the shelter last year knew first hand what it was like to be afraid ... afraid of someone who is supposed to love and protect you."
Violence against women and children is happening in this community.
"It is a not a fun topic to talk or think about," Luckasavitch noted, and "unless it is in your world in some capacity it can be hard to relate to."
Women of all races, ages, abilities and economic status are equally vulnerable to violence.
LCIH has existed for 38 years as a 15-bed emergency first stage shelter, located in Carleton Place. Recently, with the corporate support of Tiree, a management consulting and professional services company, LCIH has secured a second stage housing location.
"We all have a say in this ... we have the power to end violence," Luckasavitch said. "To help: attend a fundraiser, volunteer at the shelter, donate to the cause or support women in your community."
Unable to send anyone on Sept. 18, Mongrain presented on behalf of LCTRP, a division of Lanark Community Programs – a part of Lanark Renfrew Health & Community Services.
"Therapeutic riding is a unique and holistic approach to therapy, rehabilitation and recreation. The Lanark County Therapeutic Riding Program provides a safe environment introducing disabled children and adults to the benefits and joys of the healing powers of the horse," she explained.
The team at LCTRP consists of instructors who are certified through the Canadian Therapeutic Riding Association, enthusiastic volunteers who offer their expertise and caring and, of course, wonderful horses.
"LCTRP does not receive any on-going government funding," Mongrain said. "It is supported mostly by fundraising events and activities."
The year 2017 marks 32 years of offering riding as therapy for more than 148 riders with physical and/or developmental disabilities from all over the Ottawa Valley.
LCTRP "appreciates all donations and will gladly give tax receipts for donations of $20 or more," Mongrain stated.
In 2015, the organization began discussing the creation of a recreational program serving the Canadian Armed Forces.
"A pilot project resulted for ill or injured members, active or retired, to enjoy exercise and the benefits of working with horses," Mongrain explained. "It is called Soldier Ride."
The riders involved with LCTRP range in age from three to 60-plus years. They have a wide range of both physical and developmental disabilities, including cerebral palsy, spina bifida, Down syndrome, stroke, spinal cord injury, amputees, brain damage, learning disabilities, blindness and hearing loss, autism and attention deficit hyperactivity disorder.
The next 100 Women Who Care Lanark County meetings are as follows: Nov. 27, Feb. 12, 2018, May 28, 2018, Sept. 17, 2018 and Nov. 26, 2018.
Overall, the gatherings are a forum for funding and a way to better educate Lanark County on local charities and non-profits.
For more information, call Lynn at 613-315-5966 or visit the 100 Women Who Care Lanark County 
Facebook page
: https://www.facebook.com/100WomenWhoCareLanarkCounty/